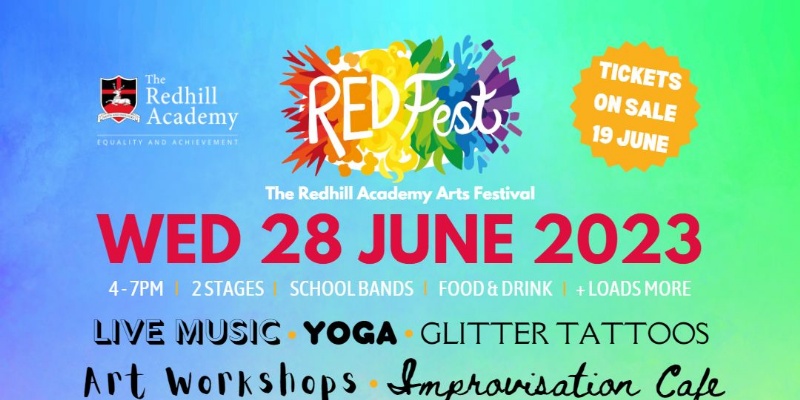 REDfest 2023: Ticket sales close at midday today!
If you didn't make it to Glastonbury this year don't worry, as we have the next best event today Wednesday 28th June at The Redhill Academy.
REDfest 2023 is The Redhill Academy's arts festival featuring performances in a range of styles, workshop activities, stalls and plenty of Redhill spirit!
The event will begin at 4 pm and close at 6 pm (please note that this is an earlier finish than previously communicated).
The Main Stage will showcase the talents of school bands, musicians, dancers and performers and will also be where the event will start and end. The acoustic stage will take place in Old Dining Hall 2 and will feature smaller musical performances. An improvisation café will be held in Old Dining Hall 1 where you can participate in drama improvisation games, give your ideas or watch the drama unfold!
In the foyer, there will be food and drinks, glitter tattoos, face painting, a photo booth and various stalls. You can also join in with our yoga session which will take place outside on the grassed area.
The Manic Street Teachers will headline the event, kicking off at 4 pm in the Main Hall and ending with a sing-along at 5:45 pm.
Tickets are only available via ParentPay (£3 for adults and £2 for concessions) and wristbands can be collected at the event.
We look forward to seeing you there!