The Redhill Academy is committed to ensuring that reading sits at the heart of the curriculum. It recognises that reading is an essential skill relevant to all subject areas, a skill that gives students the access to success at both school and in their future lives.
---
Real reading has to do with thinking, learning, and expanding a reader's knowledge and horizons. It has to do with building on past knowledge, mastering new information, and connecting with the minds of those you've never met.

- Seven keys to comprehension: How to help your kids read it and get it!
Our aim is to:
Champion the importance of reading and celebrate the advantages of reading as a life skill.

Support the integration of all students within the mainstream classroom (support and mentoring provided by our reading programmes).

Provide support for teachers which enables students to access mainstream teaching and learning (resources, strategies, scaffolding etc);

Provide extra-curricular support to improve the use of reading within the context of the curriculum (development of subject specific reading styles, intervention sessions, parental links);

Support and monitor all students;

Ensure students meet the expectations of the full curriculum and participate fully in all tasks set.
All Redhill Academy Trust schools must also follow our 5 principles for reading excellence, to ensure that our aspirational targets are met.
PRINCIPLE 1
Developing reading skills is prioritised in every subject through Wave 1 teaching.
*Wave 1 teaching describes quality inclusive teaching which takes into account the learning needs of all the children in the classroom. This includes providing differentiated work and creating an inclusive learning environment.
PRINCIPLE 2
Opportunities to read will be built into the overall curriculum model.
PRINCIPLE 3
The progress of students' reading ages will be rigorously monitored.
PRINCIPLE 4
All students whose reading age is below chronological will be monitored and, where appropriate, given additional support to close the reading gap.
PRINCIPLE 5
Developing a reading rich curriculum will sit at the heart of Trust-wide strategic planning.
---
SUPPORTING OUR READING STRATEGY
To support our Reading Strategy every KS3 student completes 15 minutes of D.E.A.R time every day; staff also model this by reading for pleasure at this time too.
We also follow a strategy called Reciprocal Reader, with all KS3 students completing a lesson of this once a fortnight; the Reciprocal Reader programme is embedded across all subjects throughout the school. In addition, all KS3 students attend a weekly library lesson where they follow the Accelerated Reader programme.
To further highlight the importance of reading, one of our student pledges requires them to read and review a variety of texts each year. We also hold regular reading events such as The Big Trust Reading Quiz and Dread Lock Alien; a workshop for year 7 students who have made excellent progress with the Accelerated Reader programme throughout the year.
RECIPROCAL READER
The Key Strategies

Predict

What are we going to read about in the next section?

Clarify

Which words and phrases do we need to find the meaning of?

Question

Can we ask questions to help us learn more about the text?

Summarise

What are the main ideas in this section?
Importance of modelling
In whole class shared reading the emphasis may be on modelling the reciprocal reading strategies of predict, clarify, question and summarise. Here the adult not only uses the strategies but highlights and explains what they are doing, making the behaviours and strategies absolutely explicit. The adult will want to demonstrate to the students exactly what they are basing their predictions/summaries on, relating the use of the strategies back to the text. Students can be fully involved during the clarify and question stages and can be invited to add to the adult's ideas for predicting and summarising too. They could prepare for this by talking in pairs.
DROP EVERYTHING AND READ (DEAR) TIME
15 minutes of reading for every student, every day.
Role models; staff also complete 15 minutes of DEAR time alongside the class.
DEAR time is monitored and logged via Class Charts to ensure efficient and accurate support for all students.
Every student is accountable.
We provide a list of recommended reads for each Key Stage alongside a termly reading list as part of the Redhill Reads competition.
WHOLE-SCHOOL CULTURE
Positive promotion of reading for pleasure and reading as a life skill.
Ensuring that the data recorded for students is accurate and up to date to ensure efficient monitoring and support.
Reading is one of our school pledges, encouraging students to read a range of novels every year and complete a book review for at least one book per term.
All teaching staff display what they are currently reading on their school email signature.
Staff & Departments list the books they are currently reading via a poster on their door.
We host Book Swaps throughout the year to encourage reading a range of literature and a diversity of topics.
Hosting regular reading events and competitions such as The Big Trust Reading Quiz, Dread lock Alien & Redhill Reads.
---
OLIVER TWIST: A RECIPROCAL READING JOURNEY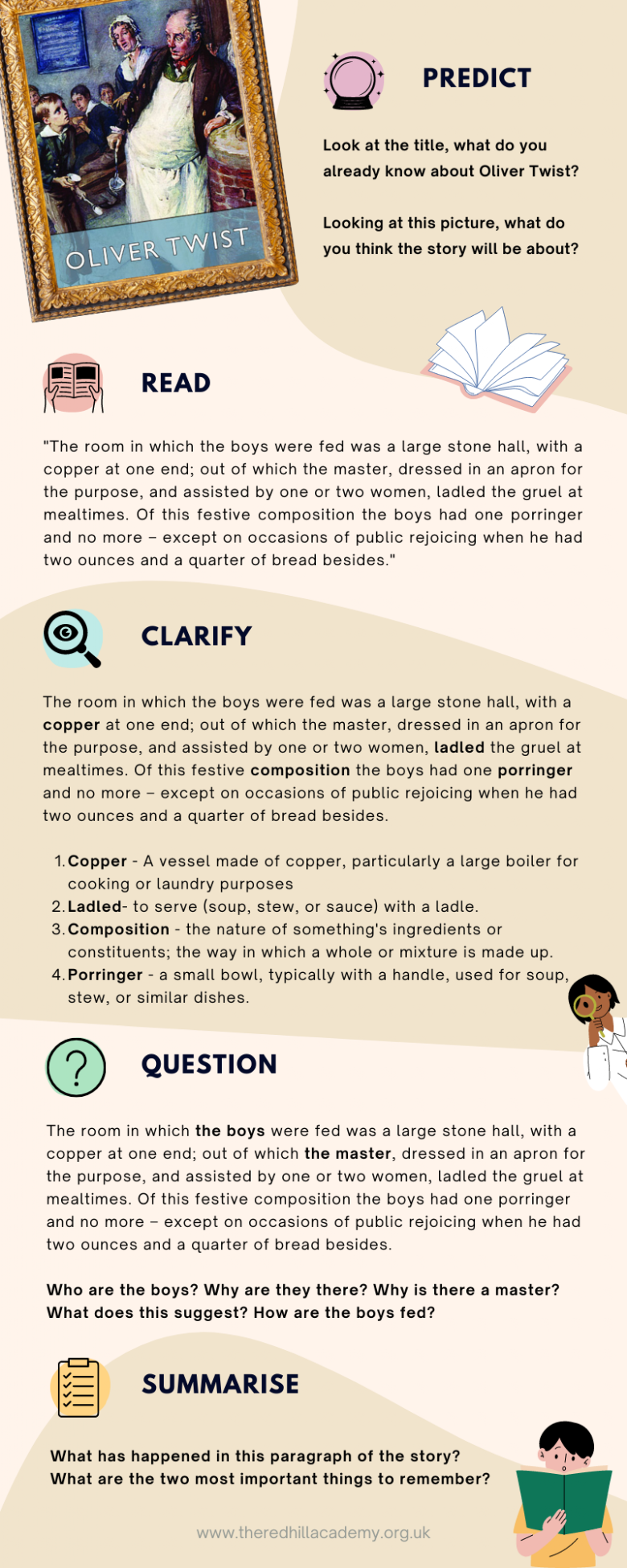 ---
READING INTERVENTIONS
We deliver the following interventions to ensure all students, whatever their background and starting points, are given the opportunity to achieve their full potential.
ACCELERATED READER
ALL STUDENTS
All students in Year 7 and 8 (set 4 & 5 in Year 9) attend an Accelerated Reader session once a week or once a fortnight.
RECIPROCAL READER
ALL STUDENTS
All students in Year 7, 8 & 9 attend a Reciprocal Reader lesson in English. This is also utilised as a whole-school strategy.
RECIPROCAL READER (SMALL GROUP INTERVENTION)
READING AGE: 9.6 to calendared age
All students with a reading age below their calendared age will receive small group intervention with an English teacher, TA or a trained sixth-form reading ambassador.
RAPID PLUS
READING AGE: 6.6 to 9.6 and SEND & EAL students
All students with a reading age between 6.6 - 9.6 will receive small group intervention with an English teacher, TA or a trained sixth-form reading ambassador using the Rapid Plus programme.
Rapid Plus was developed to support KS3 struggling, EAL, and SEN readers. It's independently proven to more than double progress in just a few months.
Age-appropriate content, with real-life topics, to inspire a love of reading in KS3 students.
A dyslexia-friendly font that was designed especially for the series.
Login to Rapid Plus: https://www.pearsonactivelearn.com/app/home
NO NONSENSE PHONICS
PHONICS SCREENING: students with a reading age below 7
This is reserved for students whose reading age and phonics assessment show they still experience challenges around decoding.
This is a Department for Education validated programme of synthetic phonics and is delivered by a trained specialist
---
KS3 & KS4 RECOMMENDED READS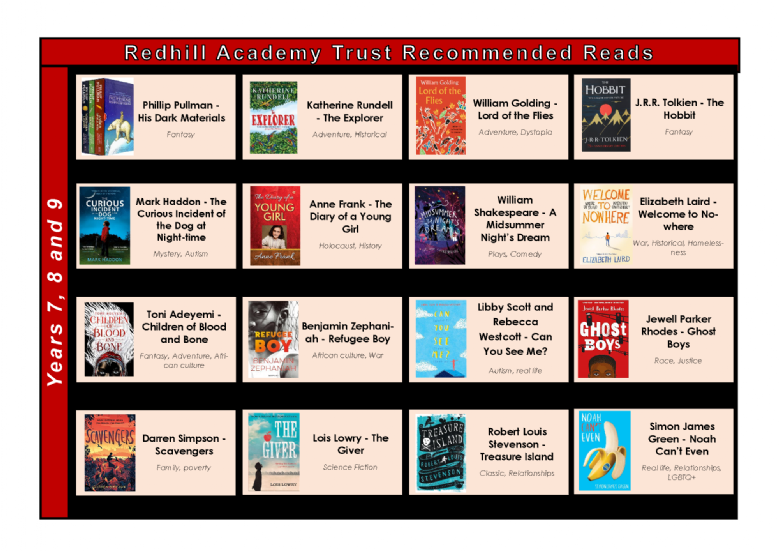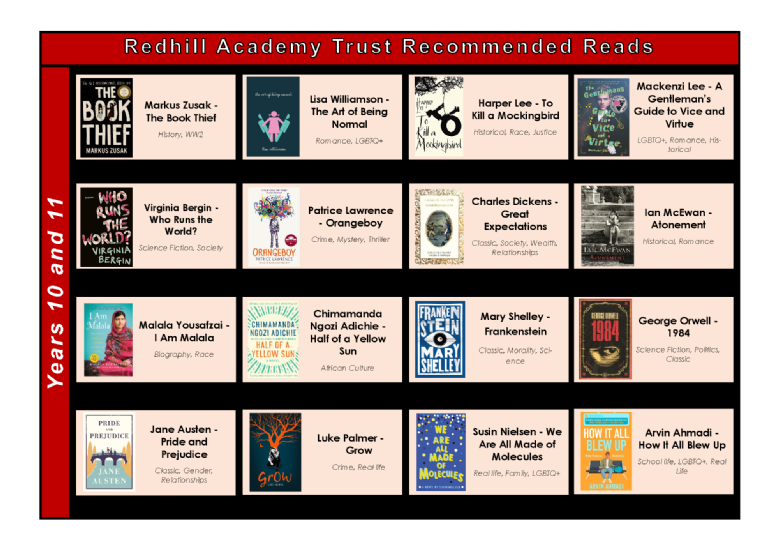 ---
Upcoming Reading Events:
Redhill Academy Trust Writing Competition - TBC
Redhill Reads - 12th September - 16th December
Redhill Academy Book Awards - October 2023 - Friday 8th March 2024
Poetry by Heart - October 2023 - March 2024
Yoto Carnegie/Greenaway Awards - Early 2024
World Book Day - Thursday 7th March 2024
Readathon Launch - Monday 11th March
Redhill Big Quiz - April 2024-June 2024 with the final held on 14th June 2024
Writing Workshops with Lisa Williamson - May/June 2024
Dreadlock Alien - Friday 19th July 2024